A Private 6 Bed Orange County Sleep Center Accredited by the American Academy of Sleep Medicine (AASM) Offering Complete Diagnostic Services, Treatment, Close Personal Service, in a Comfortable Environment.
A Professional Sleep Clinic in Orange County
Sleep related issues can affect any member of the family. We are here to diagnose and treat sleep disorders in Orange County for men, women, and children of any age with our comprehensive sleep apnea and other specialized sleep studies.
About Southern California Sleep Disorders Specialists
Southern California Sleep Disorders Specialists has been evaluating and treating patients for sleep-related problems for over 35 years (since 1984) and our Medical Director has over 20 years experience in sleep medicine and sleep apnea treatment. There are many sleep centers in Orange County, but we are one of the first AASM Accredited Sleep Labs and remain one of the few free standing accredited sleep centers in Southern California. We are accredited by the American Academy of Sleep Medicine.
---
Sleep Disorders Commonly Diagnosed
Our sleep study center offers complete diagnostic and treatment services for every sleep/wake disorder including:
Periodic Limb Movement Disorder / Restless Legs Syndrome
REM Sleep Behavior Disorder
---
Sleep Study Services for Sleep Apnea, Insomnia, Narcolepsy, Snoring, Maintenance of Wakefulness, and More
Premier Sleep Apnea Treatment in Orange County with Southern California Sleep Disorders Specialists:
There are several different sleep related issues which require treatment, but one of the most common is sleep apnea.
Talk with your physician today if you have any of the following signs of a sleep disorder:
Excessive Daytime Sleepiness
Snoring
Witnessed Pauses in Breathing from a bed partner
Difficulty falling asleep
Difficulty staying asleep
Restless sleep
Excessive sweating at night
Frequent trips to the restroom at night
You may be at risk for a sleep disorder if you have any of the following medical conditions. These are often closely linked with sleep apnea. Treatment for sleep apnea is a simple process, and can often help treat these conditions.
High Blood Pressure / Hypertension
High Cholesterol / Hypercholesterolemia
Severe Cardiac Arrhythmias
---
Orange County Sleep Apnea Treatment Options
The Southern California Sleep Disorders Specialists offer many different procedures to assess and treat a wide variety of sleep disorders. Some of the most common are:

Continuous Positive Airway Pressure (CPAP) Studies
Split-Night Studies (Split) A Combination of Diagnostic & CPAP Therapy Study
Multiple Sleep Latency Tests (MSLT)
Maintenance of Wakefulness Tests (MWT)
Daytime Desensitization Studies (PAP-Nap)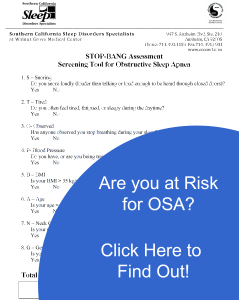 Whether you suspect you have sleep apnea or another sleep disorder, our sleep center is eager to help you with your sleep study and get you on the path to the treatment you need to sleep well.
***
One of the most common issues we find and treat in our patients is Obstructive Sleep Apnea (OSA).  To find out if you might need Sleep Apnea treatment in Orange County, print and complete this simple questionnaire. If you answer YES to some of these questions you may be at risk for OSA. Take the completed paperwork to your physician.
---
What Can You Expect In Our Orange County Sleep Center?
We employ a comprehensive approach to sleep apnea diagnosis and treatment. Our sleep technologists are formally trained and are licensed by the Medical Board of California. Studies are interpreted and returned to referring physicians in a timely manner, so that appropriate treatment can be provided.
We efficiently and effectively work closely with the patient, family, referring physicians, and other specialists throughout the diagnosis and treatment of any sleep disorder to help you get the relief you need.
Our Orange County sleep center has six large, comfortable bedrooms, designed to accommodate any patient including the following amenities and services:
Spanish speaking day staff and night technologists.
Studies are run seven nights a week, and can be scheduled within a few days at your convenience upon receipt of referral.
Mask fittings and mask CPAP Desensitization for patients struggling with treatment.
Bedrooms are equipped with Queen size mattresses, TVs, and a desk work space.
Showers are available for patients' use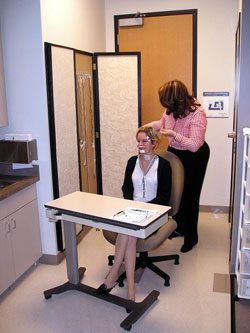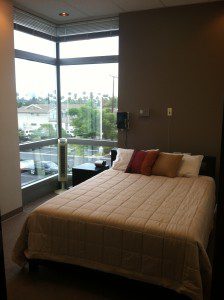 ---
Insurance Information
The Southern California Sleep Disorders Specialists Sleep Lab makes it easy for you to find coverage and support for your sleep treatment. We accept many PPO, HMO & Medicare plans for your convenience.
Please click here for list of approved insurance companies.
---
Frequently Asked Questions
[faq]
---
Location
13522 Newport Ave Ste 102
Tustin, CA 92780
(714) 491-1159
Our Orange County Sleep Center is available seven days a week for sleep disorder testing and our knowledgeable staff is ready to help you with your unique needs!  Contact us today to schedule an appointment!
*If this is an emergency, please call 911 immediately.*